Australiana: The Jade Widow by Deborah O'Brian Review
The Jade Widow, Deborah O'Brian, Random House Australia, September 2013.
RRP $32.95 Aus.
The Jade Widow picks up a decade after Mr Chen's Emporium leaves off, continuing to follow the lives of Eliza Miller and Amy Chen in colonial Australia.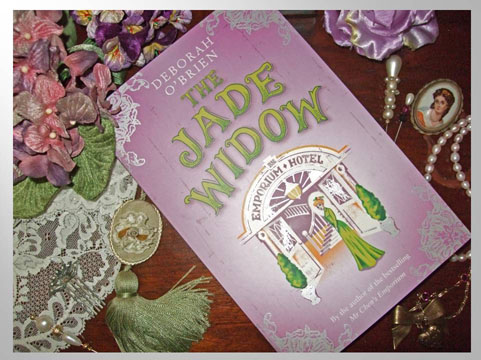 From Random House Australia:
A captivating historical novel of pioneering Australian women finding their way in a man's world, from the author of the bestselling Mr Chen's Emporium.
It is 1885, and Amy Chen is still in black, more than a decade after the death of her beloved husband Charles. But her widow's weeds belie a determined young woman with a big ambition: Amy is going to build the grandest rural hotel in the colony of New South Wales, complete with its very own 'ascending cabinet'.
Meanwhile, her best friend, Eliza Miller, has dreams of her own – to become one of Australia's first female doctors. However when she returns to Millbrooke from her medical studies at the Sorbonne, she finds the job she thought was hers has been taken … by a man.
Over the course of two turbulent years both women will face difficult choices – love or duty? Career or marriage? Is it possible to have it all …?
I wasn't sure what to make of this book to start with. The cover is gorgeous but screamed Meg Cabot and chick lit to me, which normally isn't my thing. For maybe the first third of the book, I felt like that's what the story was, especially given the strong element of romance in both women's story. Having not read Mr Chen's Emporium as well, it took me a little bit to follow who everyone in Amy and Eliza's extended family was and their place in the story. I definitely got into Eliza's story more than Amy due to her involvement in the early feminist movement and her sharp tongue. I also really loved Eliza's blossoming romance with the young male Doctor who takes her job at the local surgery and the start of her dream to create a Woman's Hospital. I couldn't tell where Amy's story was going at first but I really got into it when she started to build up her Hotel buisness in earnest and gets more than she bargained for in the attractive Irish Manager she hires. I love romance that feels natural and leaps off the page with sparkling energy and I think that both romance stories definitely achieved this.
I especially loved the way the story ended. As a historian, I hate it when writers preach about a historical time period or engage in cultural relativism. I also hate it when stories are anachronistic. Deborah manages to keep everything feeling authentic with behaviours, conversations and the political climate feeling accurate and natural. I especially loved the bravery of Deborah's choices about an ending for the two ladies. Though this tale is set in 1885, over a century ago, the issue of feminism- women juggling careers and a family, issues of society and expected gender norm paradigms- are still relevant today. I liked that there were no easy answers or choices for either woman and I was left feeling strangely sobered by the time I had turned the final page.
The Jade Widow: 3/5 inky stars
This copy was provided by the publisher in exchange for an honest review.
---
---